Gaping Gill
Gaping Gill, Clapdale Dr, Lancaster, UK, LA2 8EE
Caving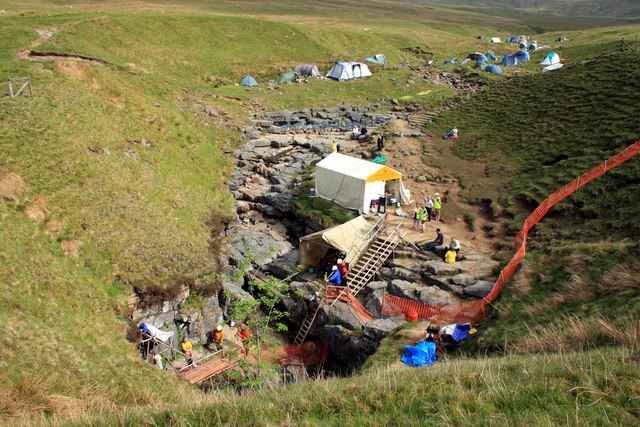 About
Gaping Gill is one of the largest and most complex natural caves in the UK. It is famous for its 100-metre pothole, through which Fell Beck waterfall flows directly down into it, through the bouldery floor and eventually resurges at Ingleborough Caves, more than two kilometres away. This is the most popular (not to mention dramatic) way of accessing Gaping Gill's cave network. Easier entry to Gaping Gill can also be found via Bar Pot entrance.
It is also renowned for having one of the largest underground chambers in the UK. The upper shaft is approximately 10 metres in diameter, but it gradually expands up to 70 metres when the shaft reaches the roof of Gaping Gill's main chamber. The cavern itself measures 140 metres long, 30 metres wide and 30 metres high.
The total mapped network of caves after Gaping Gill measures approximately 16 kilometres, but there are many more unmapped passages and caves in the system waiting to be explored.
The general public can visit Gaping Gill twice a year, when the Bradford and Craven pothole clubs install a winch over the main shaft entrance. Please check the club websites for future dates and entry fees. Experienced caving guides can be hired for private groups to access and explore Gaping Gill's network of tunnels - please check the private specialists below for more information. There are other large caverns in the system (i.e. Mud Hall and Sand Cavern), but these can only be accessed by expert cavers due to regular flooding of the tube passages connecting these caverns.
Please note, there are no facilities in the area, with the nearest food and toiletries located at Ingleborough Caves, approximately 2.1 kilometers away. The nearest parking facilities are available in the village of Clapham, 4.5 kilometres from Gaping Gill.
Before you go
Visitors should not enter unless accompanied with a guide or appropriate equipment.
There are no food or bathroom facilities in the area.
Please ensure you wear appropriate clothing, and you bring layers when accessing the cave - temperatures in the caves are much lower than ground temperature.
Cave with care and thought for the environment. Disturb nothing, whether living or geological.
Avoid touching formations.
Keep to marked routes and never cross conservation tapes.
Take nothing but photographs.
Do not pollute the cave - leave nothing behind.