Sea Swimming Along the Kent Coast

Nature's Elixir

By Leanne Downs6 March 2018
The water shimmers, reflecting flashes of light into my eyes as I wade into the sea. The bright blue water mimics the sky, waves lap gently at my waist. You'd be forgiven for thinking that it was the height of summer, but the fact that my toes have gone completely numb tell me otherwise.
It's late February and here I am, changing into my swimsuit for a sea swim in water only a couple of degrees warmer than required for ice swimming competitions – 7.2°C to exact, measured by a thermometer snuggled inside the swimsuit of fellow swimmer Janice, a member of the Facebook group that led me here.
The Folkestone Sea Swimmers group on Facebook has 43 members at time of writing, and was set up by Bridget in October last year. She has never been a fan of pool swimming, "I find them so stuffy and I can't stand that smell of chlorine. Getting changed afterwards, everything sticks to you."
Growing up in East Africa, she has been swimming for as long as she can remember. Six years ago she left London for a quieter life by the sea after being diagnosed with cancer and began sea swimming locally. This was her first winter swimming here. "If you'd told me back then I'd be swimming in the English Channel in winter, I wouldn't have believed you, but it's the best thing, it's totally addictive. I've heard a lot about it helping with symptoms of depression and chronic pain and I am sure it's true."
Janice has been swimming in the sea at Folkestone for a number of years now, joined at first by neighbours and friends from the local church where her husband is a vicar, and then connecting with other small groups through social media.
She has always been into various sports, including kayaking, but found swimming after a bad ankle injury left her unable to participate in her usual activities. She hated swimming in circles in a pool and then a friend suggested she try sea swimming. A trained counsellor, she thinks that outdoor swimming is great for both health and spirit: "It's good for your soul" she remarks, "I find something more here, it's meditative."
It is thanks to social media that many of its members found this group of outdoor swimming enthusiasts. Monika moved to Folkestone last year, moving from London. She came across the group after seeing a video on YouTube of a Saturday morning swim and has been joining the group regularly for sea swims ever since.
As we wade into the water, the ladies tell me that they often get called 'mad' for doing what they do and their activity has even been criticised as 'dangerous'. Penny, who started swimming with Janice here three years ago, has had a long career as a GP, so she has a pretty good idea about the effects of cold water swimming on the body, but that hasn't given her reason not to enter the water today.
Vivian started swimming with Penny and Janice in the summer, after recovering from cancer. Learning that they swam in winter too, she continued to swim with them as the seasons changed. She didn't think she would like swimming in the cold, but much to her surprise, she found she loved it.
So addictive is the feeling of swimming in an endless expanse of sea water, the likelihood of spotting a member of the group in the water is pretty high, whatever the weather. Satyadakini typically swims here three times per week, rain or shine. In fact, before I sat down to write this article, I saw a post on the Facebook group with photographic proof that she swam this morning, on a day when Kent has come to a standstill due to heavy snowfall. The water today, a truly icy 4.5 degrees.
She found the group after Janice and Bridget replied to her question about swimming in choppy water on another outdoor swimming group on Facebook. Originally she was frightened of cold water but was desperate to swim in the sea and has slowly overcome that fear.
There have been a number of studies into the benefits of cold water swimming on physical health as well as mental health, with it being recommended to potentially alleviate of the symptoms of depression. There is a real sense chatting to this group of ladies that swimming outside has benefitted them in numerous ways, but especially in terms of mood and helping them cope with life's many struggles, caring for loved ones, battling illness and dealing with stress.
Outdoor swimming is vital for their sense of well being, from a physical and mental point of view, as well as spiritual. It goes somewhere towards explaining the revival in outdoor swimming in recent years, with more and more people seeking a connection to nature, an escape from everyday life and a sense of adventure in the water.
That's not to say swimming in the sea isn't without its dangers and precaution shouldn't be taken. The group are well prepared in temperatures such as this and they have acclimatised gradually, beginning with summer swims and continuing to swim as the seasons change and the water becomes colder. They have learned the most sheltered spots in the bay to paddle and come equipped with water boots, dryrobes and warm clothing for afterwards. This time of year, they rarely swim for longer than 15 minutes but that's enough to get all that they seek from the water.
When I asked what they love the most about swimming in the sea, even in the cold, they all agreed that it was the sense of freedom, the lack of boundaries "it makes you feel alive," the others nod. It's a feeling shared by them all. Wrapping myself in a towel afterwards, my body warming in the weak heat of the winter sun, I start to feel it myself.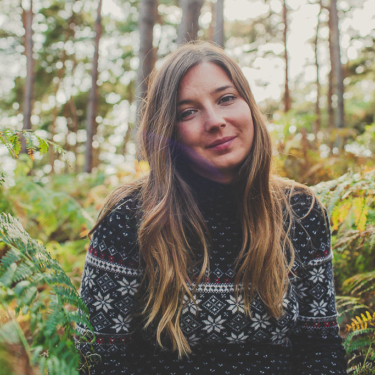 About Leanne Downs
Leanne Downs is the content editor for Thryve and a freelance photographer and journalist specialising in outdoor lifestyle, adventure and slow travel. She is passionate about exploring the human connection to nature.